After Lionel Messi scored his hat -trick , Pep Guardiola ran his hand anxiously across the top of his head. The Manchester City coach looked like a man who was watching his house burn down fully aware that it was he who had left the toaster on.
This, for all Messi's enduring and captivating brilliance, was defeat by managerial error.
City, as Guardiola had hoped, proved a match for Barcelona at times here. It seems strange to say given the scoreline but City began each half the better and they created several clear chances.
Lionel Messi wheels away in celebration after netting for Barcelona against Manchester City in the first half
Messi gave Barcelona the lead on 17 minutes after capitalising on a City mistake inside their own penalty area
The Argentine superstar was gifted the opportunity thanks to Fernandinho's (left) unfortunate slip
Messi duly took advantage of the Brazilian's error by coolly rounding former Barca team-mate Claudio Bravo
The 29-year-old (left) was promptly congratulated by his team-mates as they took an early lead
Messi gives a thumbs up to his team-mates as they take the lead in this Group C encounter on Wednesday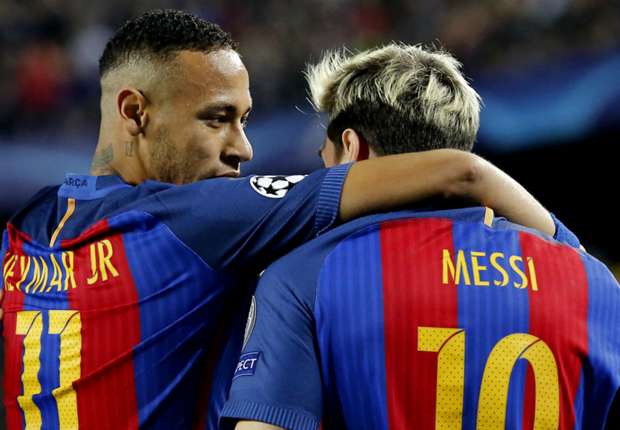 Neymar scores 4th goal that sealed 4-0 victory over city
In contrast, City boss Pep Guardiola shows his frustration at seeing his side concede on 17 minutes